1 APRIL, 2023
The Fascinating History of Indian Jewellery:
The Art of Kundan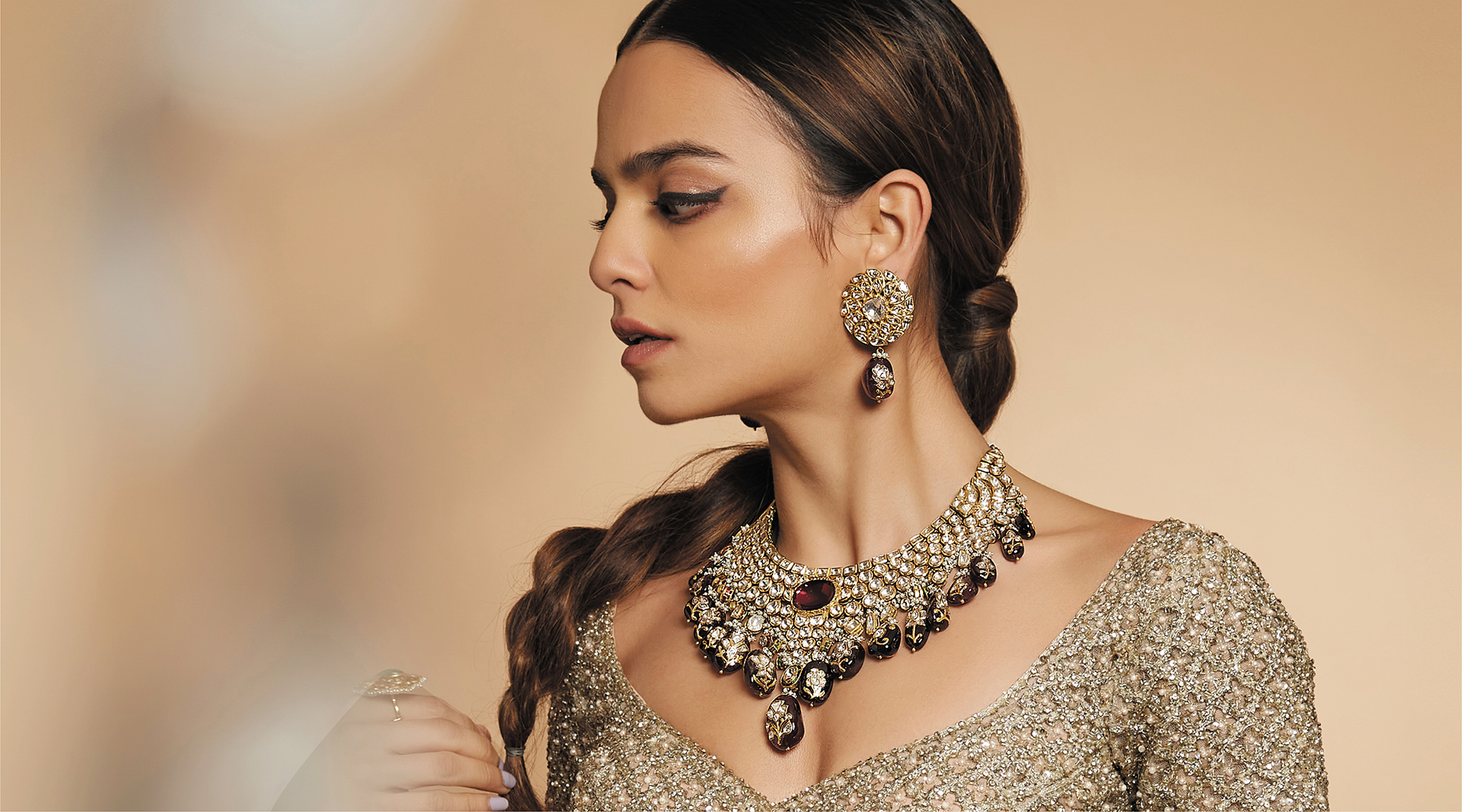 This article is the first of a series that covers the history and evolution of traditional Indian jewellery.

If all the indigenous styles of Indian jewellery were to be stacked in order of popularity, kundan jewellery would easily take first place. An Indian bridal trousseau staple, Kundan jewellery hasn't felt the need to evolve with the times and has maintained its form (and charm) over centuries.

Introduced by the Mughals and perfected by the kaarigars of Rajasthan, kundan jewellery is one of the oldest forms of Indian jewellery and has been a part of our culture for more than two millennia.

The word 'kundan' translates to 'pure gold', which is the metal used to craft this jewellery. Tradition dictates that kundan jewellery starts as a golden base, on which stones are embedded. The process of setting these stones is called 'jadau', which is why it is not uncommon to find people confused between the two terms. Very simply, kundan is the art of making jewellery with gold and stones, while jadau is the process of setting said stones in gold.

*As we're on the subject of clarifying terms — 'polkis', 'vilandis' and 'uncut diamonds', the stones used in making traditional kundan-style jewellery, are simply different words for slices of rough diamonds.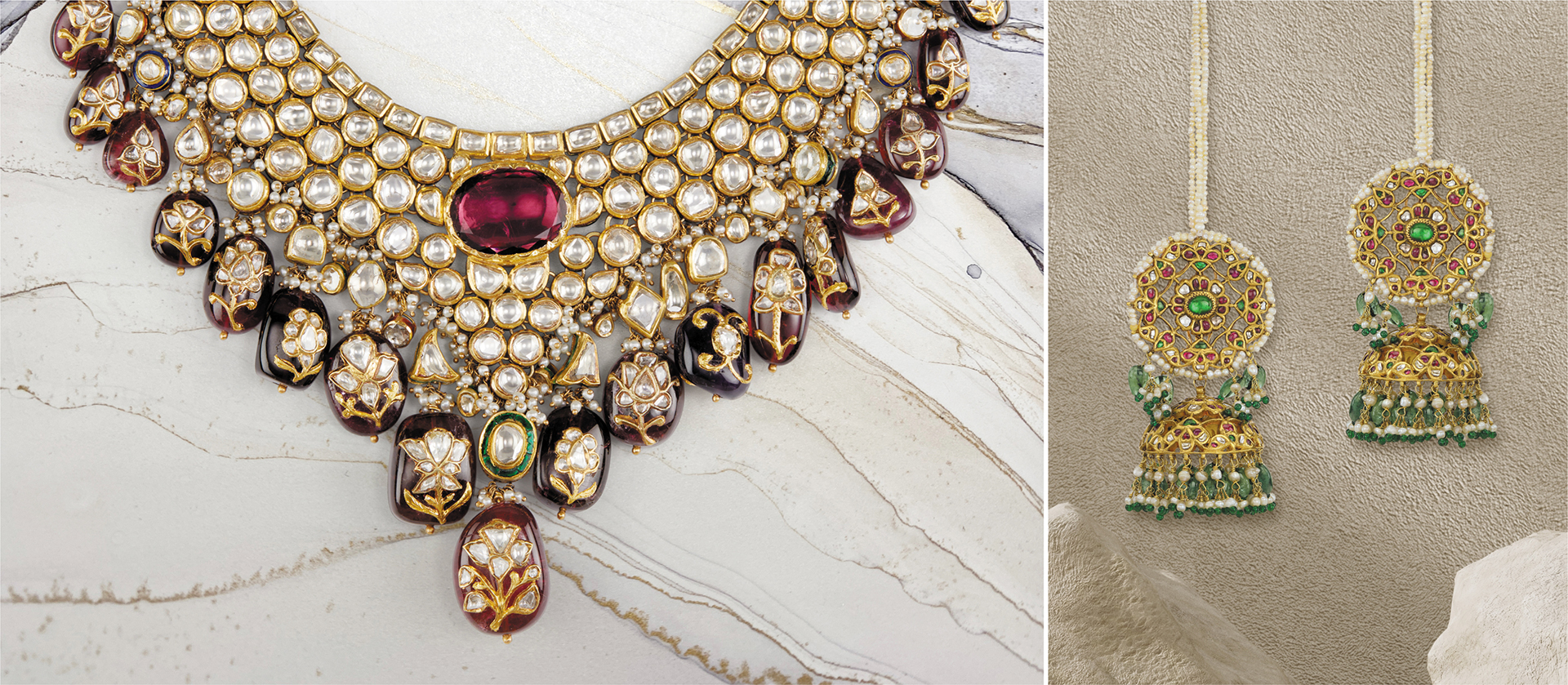 How is Kundan Jewellery made?
Intended exclusively for the royals, kundan jewellery is meticulously made, with detail-rich pieces often taking months to reach competition. The creation process starts with the 'ghaat' which acts as the base of the jewellery. This structure is crafted after the design is finalised, and is the first of many steps to create authentic kundan jewellery. The ghaat is made using 22k and 18k gold as 24k gold is structurally softer and isn't sturdy enough. The ghaat is covered with red or black wax, after which stones are individually set by hand in their designated place. A variety of stones, ranging from glass to semi-precious stones to polkis and even diamonds are used in kundan jewellery. Irrespective of the stone, the process of embedding them remains the same. Kundan jewellery with glass stones is crafted in many parts of Gujarat but kundan with polkis and precious stones like rubies and emeralds comes from the Rajasthani belt of Bikaner, Jaipur and Jodhpur, the birthplace of this art form.

After the stones are in place, pure gold foil or 'varakh' of 24k gold is filled into the loose spaces between them and the frame. To finish the jewellery, the walls and upper sides are carefully filed and polished. From plain finishes to intricately detailed ones, kundan craftsmen leave no stone unturned when it comes to pushing the boundaries of handcrafted jewellery.

While this may seem fairly simple in theory, the process of jewellery-making from start to finish is extremely complex and requires years of practice to perfect. The secrets of the trade are passed from one generation to another and kept strictly within the family, making kundan craftsmen as rare as the jewellery they create.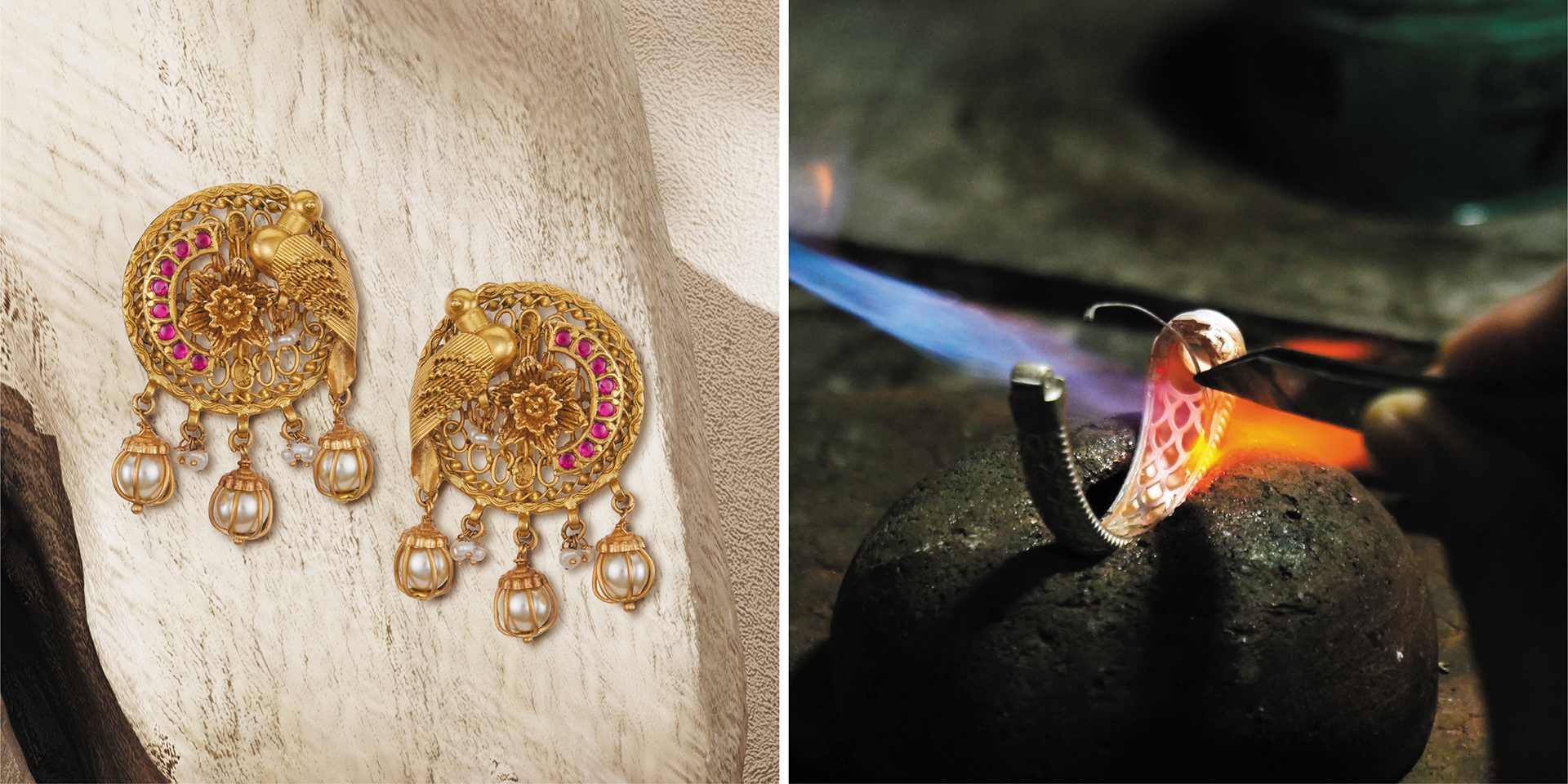 Known for their detail-rich exterior, authentic kundan jewellery is crafted almost entirely by hand. Kundan earrings available now at the KDZ and Co. store in Mumbai.
Kundan and Meenakari
During the Nizam era, kundan jewellery was typically studded with polkis and other precious stones - but that's not where extravagance plateaued. The back sides were covered with enamel or 'meena'. Rubies and emeralds were crushed and the resulting powder was used to create red and green meena. This enamel coating was added to give the base additional strength and prevent oxidation of the metal. While we don't use real rubies and emeralds today, we've cost-effectively switched to bottled meena, a compulsory component of traditionally made kundan jewellery. Skilled jewellers can flip any piece of kundan jewellery and tell you where and when it was crafted, simply by looking at the quality of the meena used.

*The process of adding the meena on the back of kundan jewellery is not to be confused with the meenakari jewellery of Bengal, where coloured enamel is used creatively with gold to create bangles, necklaces, and other jewellery

Intricate meena work, as seen on the inner side of the bangles, is an essential part of authentic kundan jewellery. Available now at the KDZ and Co. store in Mumbai.
The Evolution of Kundan Jewellery.
The art of kundan traditionally belongs to Rajasthan and by second degree, the Mughals. Till a few decades ago, this form of jewellery was confined to its birth state with consumers having to wait months to get it home. Even today, the kaarigars that make kundan jewellery, be it within Rajasthan or outside, belong to a handful of families that have kept this art form alive. However, in the past five years, an offshoot of kundan jewellery has raised its head and is making waves, especially in the contemporary jewellery circles. Colloquially called 'open setting' jewellery, polkis are set using silver foil instead of gold and the ghaat is made with 18k gold. The designs lean more towards contemporary, western styles and this style has comparatively lower price points, in terms of metal value and quantity of gold used.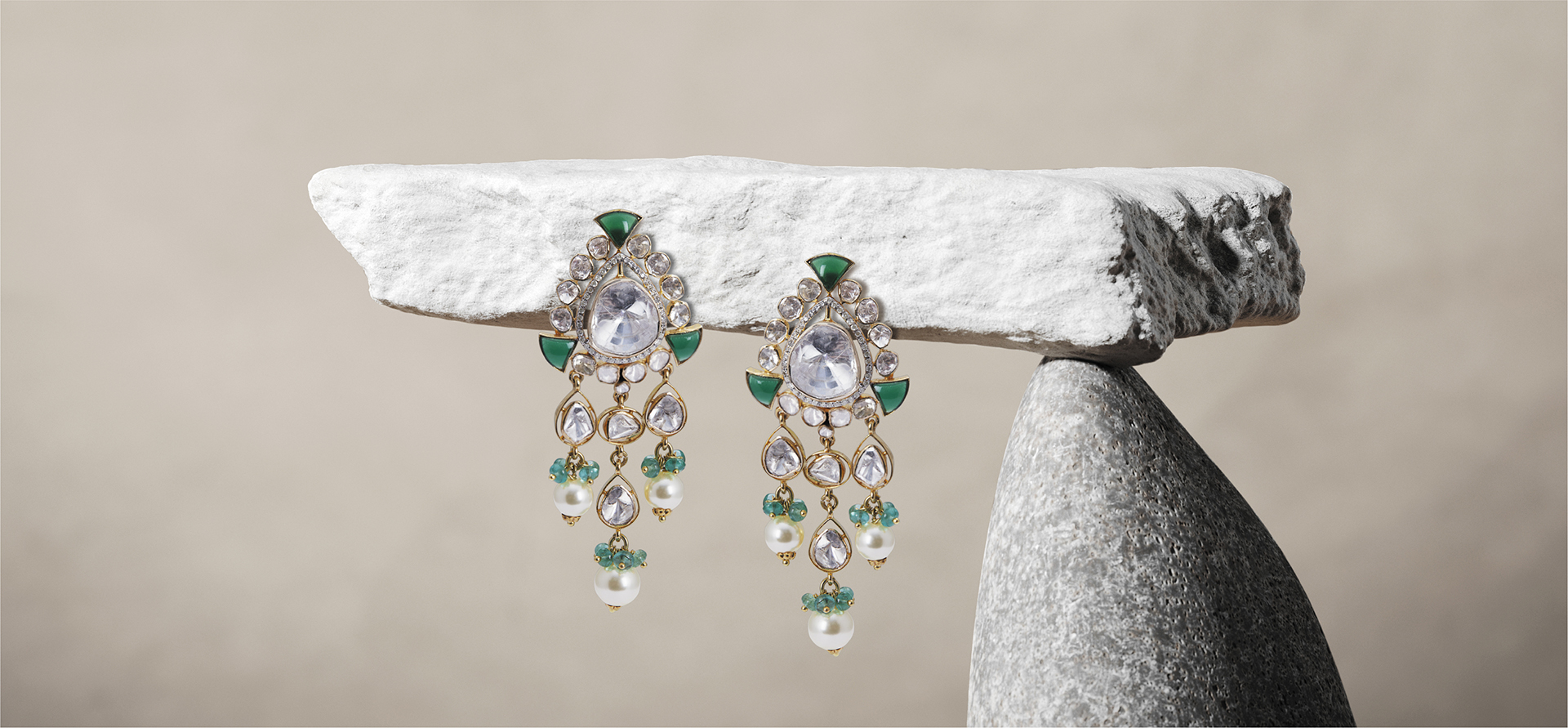 A pair of earrings created in the open setting style, an evolution of traditional kundan jewellery. Available now at the KDZ and Co. store in Mumbai.
KDZ and Kundan Jewellery
During the late eighties, KDZ and Co. was one of the few pioneers who brought real kundan jewellery to Mumbai's retail counters. 'Because of its history and rarity, there was a great demand for kundan jewellery in the market. By catering to this demand, KDZ and Co. has carved a niche for itself in the Indian luxury jewellery space,' says Parag Jhaveri, partner at KDZ and Co. 'Even today, when clients buy jewellery for milestone occasions like weddings, kundan jewellery is where the consideration process begins and with the combinations of stones, metal and designs available, the sky is the limit,' he adds.

The history, significance and charm of kundan jewellery is such that it has evolved in ways to create equally enterprising niches and consumers for itself — not just in India but across the world.